Blue Hound Kitchen & Cocktails is continually revamping their menu to make sure that it stays fresh and in season. This seasons new lunch menu also ensures that you can get in and out in under an hour. What's not to like about a seasonal menu with substance but not so complicated you have to keep checking your watch to make sure you don't upset the boss. Chef Sean Currid incorporates his normal southern styling without being overburdened with items that take too long for a typical lunch break. We got to take a peek at some favorites and new items this week during a visit to the restaurant at CityScape's Palomar hotel.
Starting 
off we chose the Corn Grit Fries. These polenta based fries have a thick smoked bacon and white cheddar mixed inside. Crispy on the outside but soft and savory on the inside they come with a side of Pomodoro sauce for dipping. We had a hard time deciding if we liked them more with or without the sauce. On one side you had a perfect starter all on its own that kept that southern focus. On the other side you could dip them into the warm sauce and it turned it into a more Italian style dish. Personally I ate most of mine without the sauce as I prefer them all on their own. The bacon pieces added such flavor that I didn't see the need to add anything else to them. Having to share this dish is a hard thing to accept as I would have happily eaten them all myself.
For our mains we enjoyed the Ham & Cheese and the Crab Cake sandwiches. The Ham & Cheese is a cl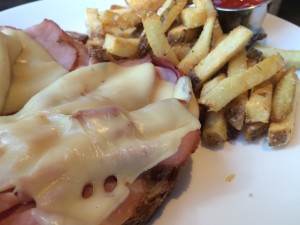 assic served on the ever popular Noble bread in an open face style. Layers of fontina and Tillamook cheddar, belly ham, and beefsteak tomato, it is a traditional mom style sandwich; however, Chef Currid creates a slightly upscale version with quality ingredients. In addition, he keeps the warm "good for the soul" feeling you are used to with a sandwich you have probably been eating your whole life. The ham is tender and yet has a slight crisp to the edges as they grill it when melting the cheese. Pair this with their thick house cut fries with rosemary, Parmesan, and chili flakes and you have a wonderful afternoon feel-good lunch. The Crab Cake sandwich can best described as crabby. No overpowering breading or thick feeling patty, this mostly crab patty has wonderful seasoning and was topped with a celery root slaw. As any crab cake sandwich should be, the crab was the main ingredient.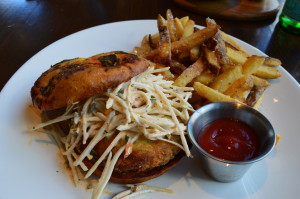 I can't stress enough how disappointing it is when you order a crab cake and get this bready puck. No fear with Chef Currid's rendition. You will enjoy every bite. The bread can be the low point on such a sandwich but placing it on a jalapeno tomato bun is a winning combination and yet again somehow manages not to overpower the crab.
I normally skip dessert at lunch but the Blue Hound Cherry Pie sounded too good to pass up. Fresh cherries cooked in a small tart like size it is covered in salted caramel ice cream and powdered sugar. The crust was flaky with just enough of a doughy consistency to bring smiles to the faces at the table. As with most items on the menu this is a seasonal option so hurry up and get over there before they run out of a cherry pie unlike any you have tried.