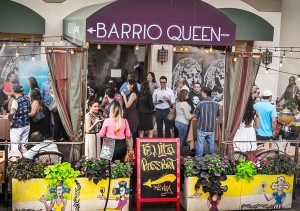 Old Town Scottsdale's Barrio Queen
Restaurant launched the largest tequila
program in the state and
WhereShouldWeEat.com was treated to
a special Passport Launch Party and Don Julio Pairing
Dinner. Barrio Queen's Tequila
Passport is a fun and creative new way for restaurant
patrons to track their tasting journey. Housing more
than 400 tequilas, rare mezcals, sotols and bacanoras,
Barrio Queen's tequila program has been personally cultivated by "The Queen's" four-time James Beard-
nominated chef, Silvana Salcido Esparza.
First Course: Chef Silvana's famous Guancamole. Chef Silvana demonstrated how to prepare her mouthwatering guacamole as we sipped on our first taste of Don Julio's Blanco which was mixed into a La Guerita Margarita (see picture at bottom of page). Smooth, Sweet and a little hint of sour, this "Margie" was a perfect mate to the fresh guacamole which gave off its own tartness with dried cranberries.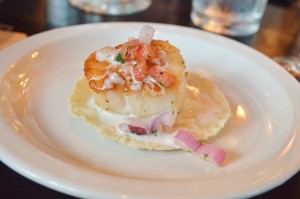 Second Course: Seared Scallops Quesadilla. Arriving open-faced on a tortilla, a huge scallop was complemented by tomato, onion and a chowder-like sauce complementing this delectable seafood sample. The quesadilla was paired with Don Julio's Reposado which was mellow with hints of citrus and spice. This particular tequila seemed to warm my checks and chest as I swallowed each sip.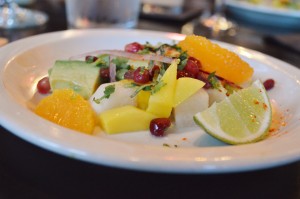 Third Course: Mango, Avocado and Jicama Salad. A refreshing summery salad with sweetness from the fruits and cool from the avocado made this bright salad a nice choice for this hot evening. Don Julio's Anejo paired perfectly with this course.  Anejo was full of fruity flavors like grapefruit, mandarin and lime but had light honey-spice finish.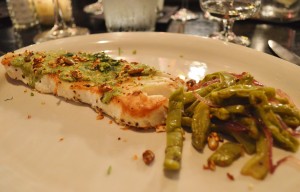 Main Course: Halibut in a pipain verde mole. The white flakey fish is subtle in flavor which allowed the pipain verde mole to be the star. The Pepitas, sesame seeds and cilantro were nice finishing touches. This course was paired with Don Julio's Anejo 70th Anniversary Tequila. Celebrating their 70th anniversary Don Julio decided to age this tequila in reclaimed American white oak barrels for 18 months, then carefully filtered which brought out unique flavors and extra smoothness.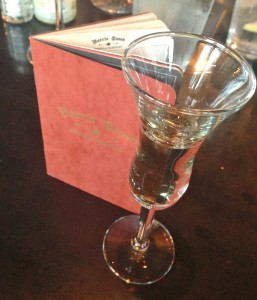 Dessert: Homemade Churro with Mexican Chocolate, Kahlua Crème and Cajeta. The traditional flavors of a Churro amped up with chocolate and Kahlua Crème was sinfully good. Paired with Don Julio's REAL which gave off hints of vanilla, carmel and chocolate with coffee undertones made this the sweetest and my favorite tequila of the night.  Its warm and flavorful impressions lingered on your palate and made the ideal end to the meal. I could have sipped on this tequila well into the night.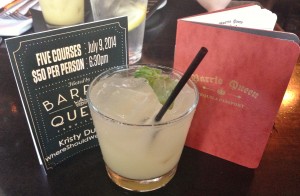 As we tasted each tequila our Passports were stamped with a unique stamp representing each spirit. Over the next several months, Barrio Queen's Passport Program is poised to attract both tequila aficionados and those who want to learn more about the spirit that is ever increasing in popularity. Check their website for more events planned throughout the summer and be sure to take part in this entertaining journey through tequila. (I have 5 down…395 to go!)
See Barrio Queen's "Ingredients" page here: Barrio Queen