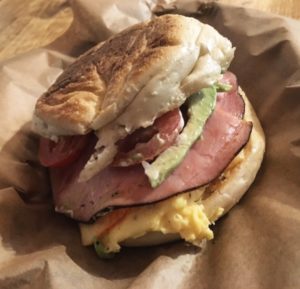 Well I've stumbled across the best breakfast sandwich in town and it's sandwiched between 2nd and 3rd St off Roosevelt. On a walk towards downtown one Saturday morning I decided to pop into Be Coffee + Food + Stuff for boost of caffeine. As I waited in line to order my latte I skimmed the chalkboard menu on the wall when a sudden twinge of hunger pain came on and I knew I better order something. 
Located in the space that formerly housed Songbird Coffee, Be Coffee + Food + Stuff opened under 2 years ago and inhabits the small front section of the Monorchid event space. I honestly wasn't expecting much given the lack of kitchen room, but I was about to be proven so wrong. 
The breakfast sandwich consists of warm ham, scrambled eggs, melted Muenster cheese on griddled MJ English muffin and I decided to add avocado. After a short wait my name was called and I went to the small window counter to retrieve my sammie. I was first taken aback by how big it was, I quickly took a seat at one of the small tables and sunk my teeth into this bad boy, D*mn! Hands down, Be Coffee +Food + Stuff has perfected the art of the breakfast sandwich! The homemade taste of the English muffin was just the start. Warm fluffy scrambled eggs, griddled ham and fresh avocado piled high as melty Muenster cheese and mayo oozed out the sides. I think I verbally let out a "yummmm." To stumble across an unexpected treasure like this is truly a foodie's dream come true. To top it off my latte was stellar and the staff was incredibly warm and welcoming. Next time you are in the area grab some great coffee from Be Coffee + Food + Stuff but don't even think about leaving there without one of these sandwiches!