Are you scared of things that go bump in the night? To get into the spirit of Halloween we have compiled a list of Valley restaurants reported to have paranormal activity. We warn you… your fellow diners might just be from beyond the grave. Happy Halloween from all of us at WSWE!
Lon's at the Hermosa Inn: (Paradise Valley) In the 1930s, cowboy Lon Megargee constructed a ranch home in PV. To help pay for the house's upkeep, he rented out rooms to travelers. In 1941, Lon was forced to sell Casa Hermosa along with its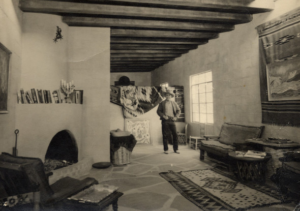 furniture and most of his artwork. Some believe Lon has never left his "Beautiful Home." Doors closing, objects moving and even a cowboy in the mirror (thought to be Lon) have been reported.
Nobuo at Teeter House: (Downtown Phoenix) Located in historical Heritage Square, this Phoenix resident was built in 1899. Eliza Teeter lived in the house for 54 years raising her kids and then later turning the home into a boarding house up until her death (in the home) in 1965. Now the structure houses one of the Valley's best Japanese restaurants. Reports range from items mysteriously being moved in the kitchen and dining areas to place settings being changed overnight. Sightings of an elderly woman (thought to be Eliza Teeter) have also been reported.
Casey Moore's Oyster House: (Old Town Tempe) This Irsh Bar was once a home originally owned by William and Mary Moeur who built it in 1910. Throughout the years Casey Moore's has been a boardinghouse, rumored bordello and fraternity house. Over the years there have been many sightings of a female entity on the second floor and reports of pictures mysteriously flying off the walls.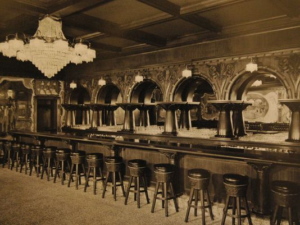 The Stockyards: (Phoenix) Edward A Tovrea opened a packing house in 1919. His son, Philip E Tovrea, continued to run most of the empire after Edward's death in 1932. A simple 35 seat coffee counter opened in 1947 serving the cattlemen who came to do business with Tovrea. In 1953 a fire destroyed that building and in 1954 a larger two story structure was built on the property which is now the present day restaurant and bar. Lights turning on and off, moving chandeliers, mysterious voices and moving shadows have all been reported here. An apparition of a lady in a red dress has also been seen roaming the structure.
The Old Spaghetti Factory: (Phoenix) The stretch of land that stretches along Central Ave once occupied a couple of private residences and then a furniture store before becoming The Old Spaghetti Factory. The activity is known to be a bit more malice as screaming and crying have been reported. The ghosts may be those from a murder that allegedly happened in the house decades ago. Workers and patrons both have witnessed the activity.
Hob Nobs: (Phoenix) The adorable cottage was once known as" The Helen Anderson House" and was originally built as a residence for Helen Anderson, the widow of insurance company organizer Carl H. Anderson. Rumors have circled about ghostly activity. Last Halloween Hob Nobs went so far to have paranormal investors visit and analyze the historic cottage.