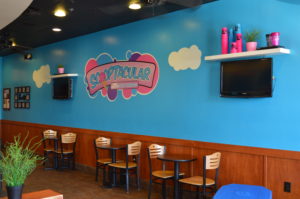 My love affair began randomly at Lou Malnati's, upon tasting their cookie dessert topped with the best vanilla ice cream I've ever had in my life. I asked them where this treasure came from and that was the first time I heard the name, Scooptacular. It was necessary to learn more and to taste more of course. A little investigation and we discovered Scooptacular is located in Laveen and not only do they make their own ice cream there but they have a great little shop. One very hot day in July my business partner in crime and I set out to get our hands on some ice cream and we were pleasantly surprised to find a great local success story along the way, and of course a new favorite flavor.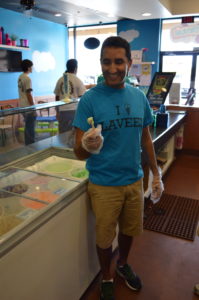 Nindi Wadhwa started his shop 6 years ago when he realized that there really wasn't much selection in Laveen for family outings. He and his wife couldn't find many options to take the whole family out. South Phoenix is full of your typical strip malls and restaurant chains for the most part. One day they drove by an empty shop in one of those malls, which was once inhabited by a Cold Stone, and they thought it would be pretty cool (pun intended) to open up their own local ice cream shop. If you can't find what you are looking for, why not make it yourself. One thing led to another and now they not only have 2 stores (the second is in the SanTan Village in Gilbert) but you can also find their ice cream in multiple restaurants throughout the valley. Some Fox Concepts restaurants, Beckett's Table, among other local restaurants use Scooptacular ice cream for some of their desserts. It is truly a great example of working within your local economy and utilizing word of mouth to find success. Keeping it local has also allowed them to become deeply ingrained in the community; hosting events and fundraisers all in an effort to bring the community closer together.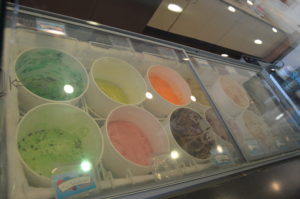 As for the actual ice cream, we embarked on a tasting extravaganza and oddly both my business partner and I ended up agreeing on the same favorite flavor. Nindi is willing to try anything when it comes to flavors and some work out and some just become great stories. During baseball season they developed a hot dog flavor (it had actual hot dog pieces in it) that didn't go over so well except, the neighborhood kids started daring others to try it so it became infamous in its own way. But you probably won't be seeing it again anytime soon. On the opposite side of the spectrum is the Laveen Concrete Mix, which is named because of a concrete factory located down the street. It has caramel ice cream with graham cracker crumbs and chocolate "rocks". It's only available in the Laveen store and it is worth the drive. These flavor experiments have also helped to create some social buzz. For example, during Thanksgiving 2012, the local CBS affiliate did a story on the Turkey flavor ice cream they had created and the story went national. Trending the day before Thanksgiving as the #3 story nationwide is not a bad way to start off a business.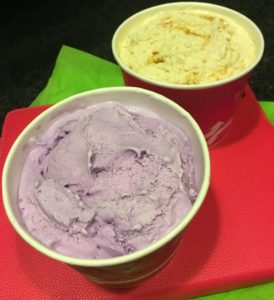 For us at WhereShouldWeEat.com, our new favorite is Taro. Yes that's right, the root vegetable! Surprisingly, it is very addicting and trust us when we say it is worth trying for yourself. It is a lavender purple color and has a distinct taste like nothing else you have ever had. The smell and flavor both reminded me of the Jelly Belly buttered popcorn flavor, which may sound unpleasant for an ice cream but it was amazing. There is a lot in store for the future of this local ice cream hidden gem. We can't wait to see what new flavors are up next and where we see them expand! For more information on Scooptacular visit their ingredients page HERE.