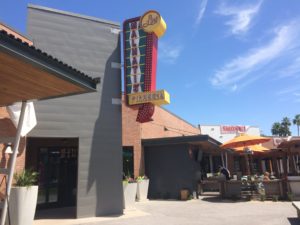 A classic Chicago icon has landed in the valley. The Phoenix metro area is a prime area for Chicago transplants and so it comes as no surprise that the pizzeria best known in Chi town is planting some roots here. In fact, the pizza maker has been shipping their pizza out of state for some time and Phoenix is their top ship-to location. We got a sneak peek at their first expansion outside of Chicago and you might be surprised by the look and feel of the place. Don't worry the pizza is still the same and even shares the same cheese supplier from a Wisconsin dairy farm.
The building itself looks different then their other locations mainly because they want to blend into their surroundings and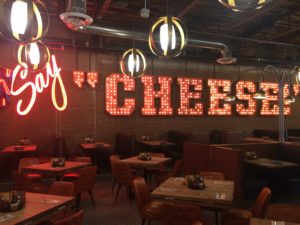 infuse a little bit of Phoenix. Located in the Uptown shopping plaza they use a lot of the retro refurbishment look, from the huge lighted cheese sign in the main dining area to the picture of Sky Harbor back when there was a terminal 1. The plaza itself has been in the process of revitalizing that section of uptown Phoenix and in doing so choose to bring a retro flare to the shops and restaurants. To say the plaza has been a huge success is an understatement, from locally based Flower Child to New York Shake Shack and now a little Chicago added into the mix is a testament to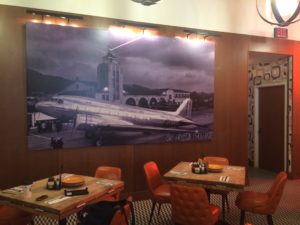 the kind of pull Uptown Plaza has in the market. Lou Malnati's has built a fantastic looking establishment with a big patio, nice bar with comfortable leather stools, free Wi-Fi, and no matter where you look there are little nods to the original. No matter if you are a Lou Malnati's fanatic or this will be your first experience, you will be pleasantly surprised.
Of course you don't come to Lou's just for the ambiance, you're here for the pizza and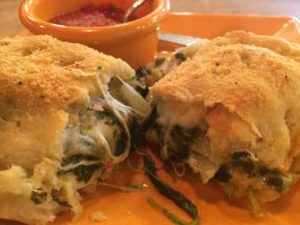 other selections on the menu. To start things off I tried the Stuffed Spinach Bread. It looks a lot like a little banana bread loaf but instead contains spinach, garlic, onion, and tomato and is served with a side of marinara sauce. Not too big for an appetizer but really perfect to get this carb loading event started. Primarily you will taste the spinach but moments later you are struck by the wonderful garlic and onions. While it is encased in the same crust as the pizza, its flavor spectrum is different from the pizza allowing you to begin your meal with it. O.K., but seriously you are here for the pizza.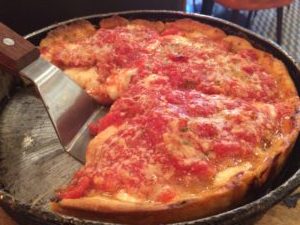 Deciding which pizza to order was pretty simple, as I can't remember the last time I had a deep dish pizza. I went with the Lou Malnati's Classic deep dish. With sausage, double cheese, roma tomatoes on Buttercrust. Yeah, that's right, Buttercrust. That's not my joining of words but instead a trademarked word Lou Malnati's uses to describe their crust. They aren't joking or exaggerating, it's a perfect word to describe the flakey buttery crust that houses all the sauce and cheese and sausage deliciousness that is contained inside. It's heavy, for sure, but worth every last carb.
Finishing things off was the Chocolate Chip Pizza, which was in a small ramekin and just the right size to get a little sweet before departing this food journey. Gooey in the middle and a little crispy on the outside like every good cookie should be, the ice cream melted nicely only to mix with the whipped cream on top. The surprise was that the vanilla bean ice cream was made by a local ice creamery called Scooptacular. My next mission is to find this ice cream genius and purchase a full pint. But for now it's time to go take a nap on the couch.