St. Francis has always had fresh delicious vegetables as a mainstay on their menu but the recently updated lunch menu brings it to a whole new level. Chef Aaron Chamberlin refreshed the menu to not only focus on the seasonal ingredients but also to infuse it with the light, yet rich mesquite and almond wood flavors from roasting in the oven that is synonymous with St. Francis's dishes. The oven is the centerpiece of St. Francis and how it gets those flavors into its food; it is a custom wood-burning oven that uses mesquite for its smokiness and almond for its heat. We were recently invited to enjoy a tasting of this new menu and if I didn't know better I would think everything was picked right out of the garden just for our dishes. St. Francis is located on Camelback just east of Central and has become a mainstay in Uptown Phoenix. Serving up not only the freshest ingredients but also a comfort level akin to cooking with some friends at your house, all while being provided top notch service. So let's dig into the new menu.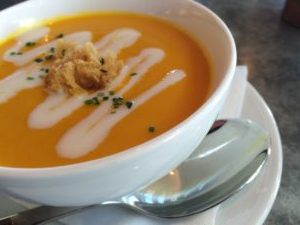 We started out with the Carrot Ginger Soup not only for the strange soup craving I was having but also the think velvety texture of the bowls coming out of the kitchen on tray after tray. It seemed to be quite the popular dish even on this relatively warm day, a precursor to the summer scorching we all dread. But don't let the heat scare you away from this wonderful soup. Creamy and smooth the ginger is muted so as not to hit you with that sharp ginger taste, it's simply a secondary flavor to the strong carrot. It coats your stomach and tongue with each spoonful. A perfect way to start your experience through the St. Francis garden. I easily could have had a bowl of this and walked away content but then I wouldn't have gotten to experience the beauty of the summer squash plate.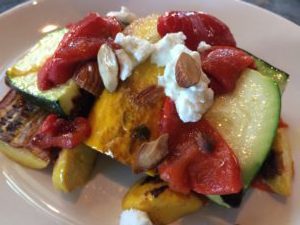 The whole roasted summer squash plate incorporates colorful, oven-roasted baby squash topped with roasted red pepper and romesco sauce, local goat cheese and toasted almonds. I admit I always fought finishing the vegetables on my plate growing up; however, maybe it's my ever changing taste buds or just how this dish was prepared but I had no problem this time. The squash was cooked with such perfection keeping the crisp bites and slightly charred outsides along with the soft insides. Definitely attempt to get a little of each ingredient in one dish as the sauce, cheese, and almonds add to the squash without taking anything away from the base flavor.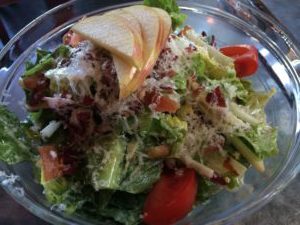 For the mains, my lunch guest enjoyed the Romaine Hearts salad while I enjoyed the French Onion Hamburger with a "simple side salad". The Romaine Hearts salad had bacon, apples, endive, and a buttermilk cheddar dressing along with its namesake Romaine. Fresh, crisp, and refreshing this salad would make both veggie lover and meat lover happy. Just one of many things that makes St. Francis so great is that there is something for the vegetarian, gluten intolerant, or meat lover. For me, summer always makes me crave salads like the one my partner had but on this occasion I needed a juicy burger. Having always loved French onion soup, I couldn't pass up the description of the French Onion Burger. Close your eyes and imagine these ingredients in a thick juicy burger; smoked bacon, gruyère, crispy onions, arugula, and a French onion dip spread. I was so happy with my selection I didn't want to eat it all so that I could enjoy it at dinner too. Who needs ketchup and mayo when you have french onion dip as a condiment?!
The burger itself probably would have been perfect alone as it was as moist and juicy as any burger I've ever had, but I'm not complaining about any of the toppings. In fact, this one is going in my favorite burger list and that is an honor from this burger lover. One last note is that you have a choice of fries or a "simple side salad". I chose the latter and I don't know if it was the ingredients or the light oil based dressing but I could have ordered the side salad as a dish all its own. I look forward to trying out more on this new menu all summer and this side salad will probably become my staple side dish.