For the past 27 seasons Wright's at the Arizona Biltmore has been hosting Winemaker Dinners. To kick off the 28th I was invited to attend the Antinori Wine Company dinner. As it would turn out, it was one of the most enjoyable evenings I have had in sometime. The physical characteristics of the Biltmore are perfect for an evening like this and the atmosphere brings out moments where you forget its 2017 and might instead be running into the company of Marilyn or some other of Hollywood's greatest.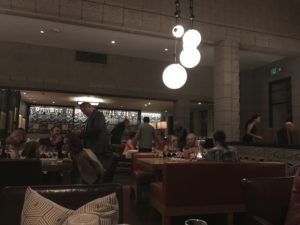 We started the evening out on the patio of Wright's with a Brut sparkling wine and canapes. As to be expected at any Waldorf Astoria hotel the service all night was top notch but friendly without pretention. The canapes were great to whet the appetite: Ahi Tuna salad, Charred Artichoke in a spoon, & a Foie Gras Cannoli. After some conversation and the tasty morsels we were ushered inside to our tables where we were greeted and told a little history to the night's winemaker.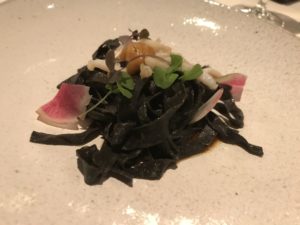 We started our 4 course meal with a very light but interesting squid ink linguini with cuttlefish. Nicely plated and given what we had coming our way it was the perfect amount. It was paired with the Guado Al Tasso, Vermentino which was very complimentary to the pasta and had a nice clean finish, very similar to a sauvignon blanc.
My favorite dish was coming up and in all honestly I could have done a whole meal of this one dish. It was Guinea Hen Roulade and consisted of the hen with Italian sausage stuffed under the skin and topped with lemon preserve. Delectable and brought a huge smile to my face. I immediately though I could make this my new holiday dish as it had a very wintery feel to it. It came with 2 ricotta gnudi and in case you have no idea what that is, as I didn't until this night, it's very similar to gnocchi in consistency but creamier and with more flavor.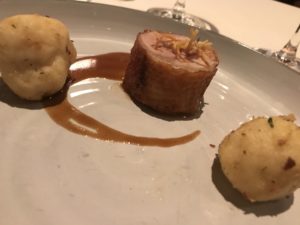 I promise you, it is like no gnocchi you have ever tasted and I can only hope this dish and all its accompaniments become a regular menu item. It was paired with a beautiful Antinori, Scalabrone, Rosato.
Our final two dishes were a braised pork shank which, unfortunately at this point I was too full to finish but was fall off the bone and with wonderful agrodolce sauce. It sat among roasted cauliflower, Brussel sprouts, and a really wonderful parsnip puree. It was paired with a Guado Al Tasso, 'Super Tuscan' a red which was the hit of the night. We had to end on a sweet note of course which was a black walnut peach torte set in an espresso cube with a vanilla bean chiboust crème and was just the right amount of sweet. This was served with Antinori, Muffato della sala, a dessert wine. With a very strong perfume & floral scent it was a nice ending to the evening and accentuated the peach in the torte.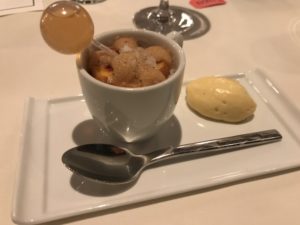 There is a full calendar of the Winemaker Dinners coming up so you have plenty of time to get one on the books. They are held once a month and at press time there are different winemakers scheduled out through June of 2018. Dinners are $160 a person, plus tax and gratuity. They include a welcome reception, 4 course meal, along with the wine pairings.
For more information check out the Arizona Biltmore website or here.